Thanks to our experience of 30 years in aluminum structural welding industry and high focus on the process of manufacturing, production and elaboration of different aluminum products, in the recent years we have designed and developed welded aluminum structures for structural and non – structural functions.
We develop various aluminum structures in sizes and complexity for the construction of civil and industrial accommodation modules and its relative assembly as per customized project requests.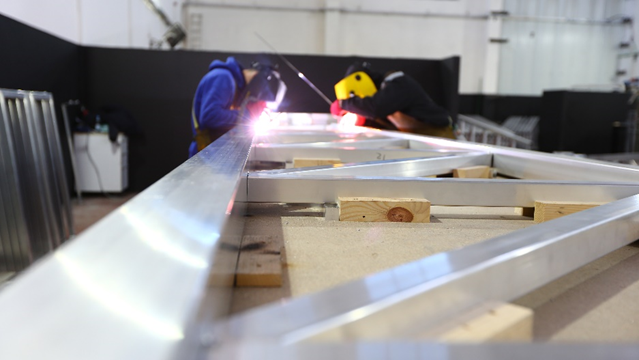 By welding and assembling, our production units and experienced technical staff are able, in collaboration with buildings projection studios that calculate the static, strength and guarantee the needed durability of the entire construction, to adapt and implement to the technical requirements of the project.
We collaborate with architects, engineers, building construction studios and certified quality production auditors to ensure the best values of each project.
ALUMINUM STRUCTURAL WELDING AND CONSTRUCTIVE SYSTEM
Aluminum is an innovative material in the construction industry. Resistant, non-oxidizable, solid and recyclable to infinity and does not lose physical and mechanical properties.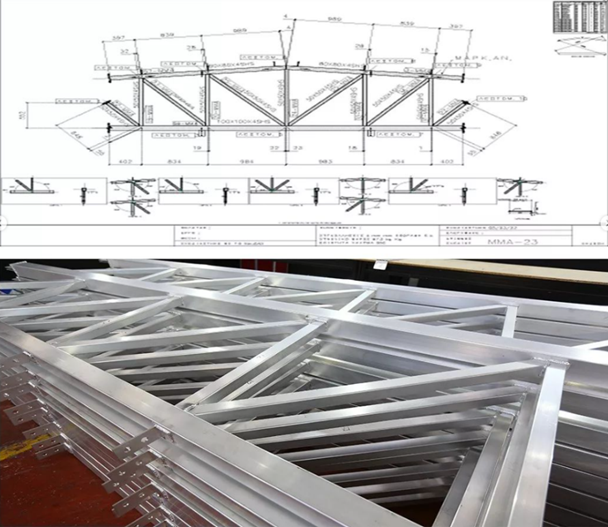 Through surface treatment methods, the material does not rust, does not deteriorate and at the same time aluminum structures resist for a long time without the need for maintenance.
Its main purpose is to guarantee anti-seismic safety. The structure is light and durable. Guarantees the value of the project by giving a greater resistance. The structures require a plinth that is defined by the static design and the columns are caught in this plinth with log bolts. Due to surface treatment applications do not produce fires and do not burn easily.
The specific gravity of aluminum is 3 times lower than that of iron. It is approximately as resistant as iron and is more elastic being able to absorb seismic oscillations.
The structures shall be calculated in the legal norms from each country by the technical calculation building constructor studio and according to Eurocode.
It has a very good adaptation with other insulating materials such as glass fiber, cardboard panels, acoustic insulation, cement panels, etc. that are used in interior and exterior and also with other non-structural building components with welding and assembly without being limited to the adaption with Electrical Plumbing, Ventilation and Fuel systems.
SOME OF OUR SUCCESSFULLY ACCOMPLISHED PROJECTS
PROJECT IN GREECE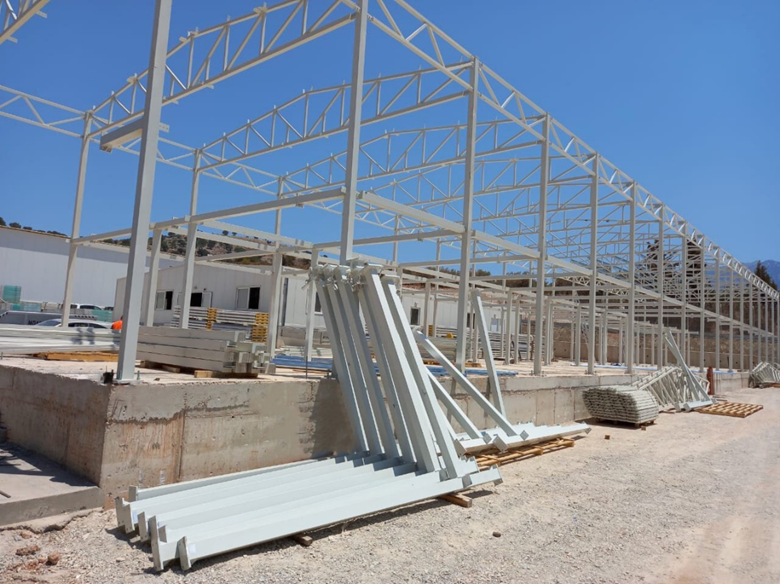 Production project implementation
400- System: Trusses aluminum welded structures with assembling on customized project
Possible Application fields: Emergency temporary and permanent living, Services and commerce centers, Business production and offices premises.
PROJECT IN ITALY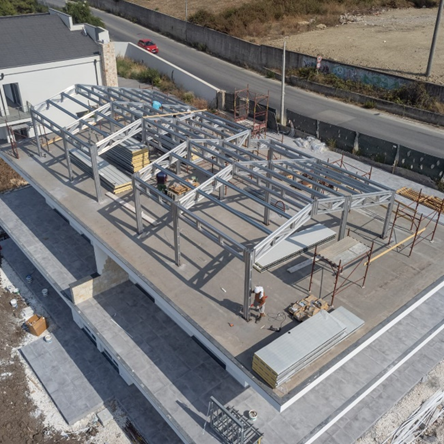 79/115- System: Welded Aluminum structure for dry construction with assembly as per customized project
Application field: Upper floors construction, services and merchandising centers, leisure centers, temporary and permanent living or work premises.
WELDED ALUMINUM STRUCTURES FOR CUSTOMIZED PROJECTS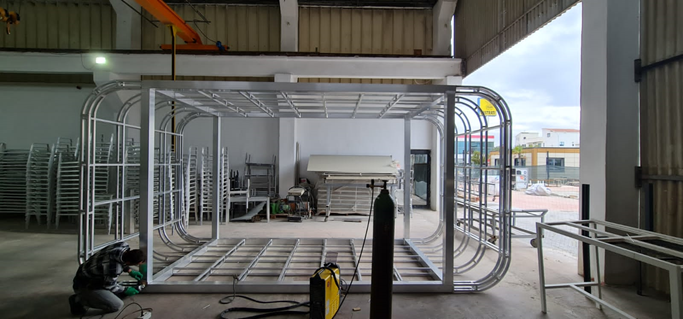 Personalized welded aluminum structures as per client's requests for modular living and services units.
Technical solutions, project development, implementation in production according to total standard quality requirements, including: extrusion, cutting, working centers elaboration, milling centers and lathe cnc machining, bending, welding and assembly.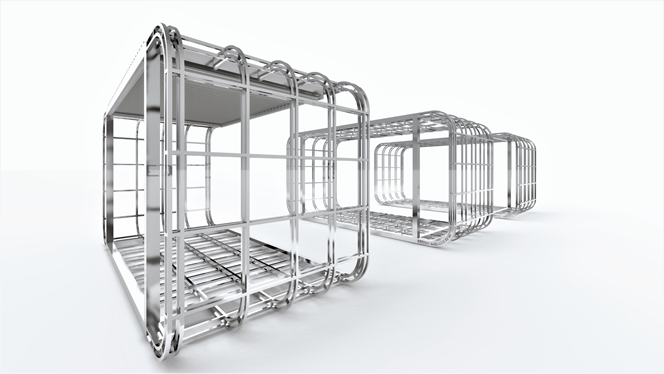 Application field: Bars, restaurants, beach bars, residential units, second homes mountain and beach cabins, modular shops.
WHY IS ALUMINUM PREFERRED IN THE CONSTRUCTION INDUSTRY?
Construction consumes 25% of all aluminum produced worldwide. Aluminum constructions have a minimum design service life of 80 years. Aluminum may be used in any climate during this time period and maintains its characteristics at temperatures ranging from –80°C to +300°C.
Aluminum's lightweight is an even more crucial feature. As a result, the weight of aluminum structures is half to two-thirds that of steel structures and up to one-seventh that of reinforced concrete structures of equal bearing capability. Less weight means less used material for each finished product unit becoming more cost effectiveness even to the building construction industry.
Aluminums light weight makes its mechanical components lighter, reduces counterbalances, and offers the architect more room to express his or her creative vision. Working with lightweight structures is also easier, faster, and more convenient.
Aluminum is a metal with excellent mechanical properties and has made a revolution in many technological fields. Although much lighter than other metals, it possesses very high mechanical strength, which is why it is used so much in the required field of aeronautics, automotive and machinery sectors. Moreover, it is very resilient to various forms of corrosion and involves minimal maintenance costs.
ADVANTAGES OF ALUMINUM
Aluminum is also the third most common element that exists around the earth's crust. It is an "ecological" material which can be recycled in an infinite number, preserving its characteristics without any qualitative degradation. In fact, the energy required in its recycling is only 5% of what is consumed in the initial production. So, it is no surprise that in Europe 85% of the aluminum used in construction comes from recycling. Aluminum has a huge combination of properties, which means that it is an extremely good building material, very usable and convenient.
Aluminum alloys are nowadays increasingly used in manufacturing by extrusion, surface treatments and welded composition of structural elements suitable for the construction of civil service works or parts of them.
Pespa Alumin works only with primary raw material (primary ingots) not recycled, of series 6000.