One of the main procedures and focus of our manufactory is welding and its by-products. With years of experience and multi-skilled welders we have produced aluminum of all kinds and for all purposes thus enriching our experience, our know-how and our skills in the field.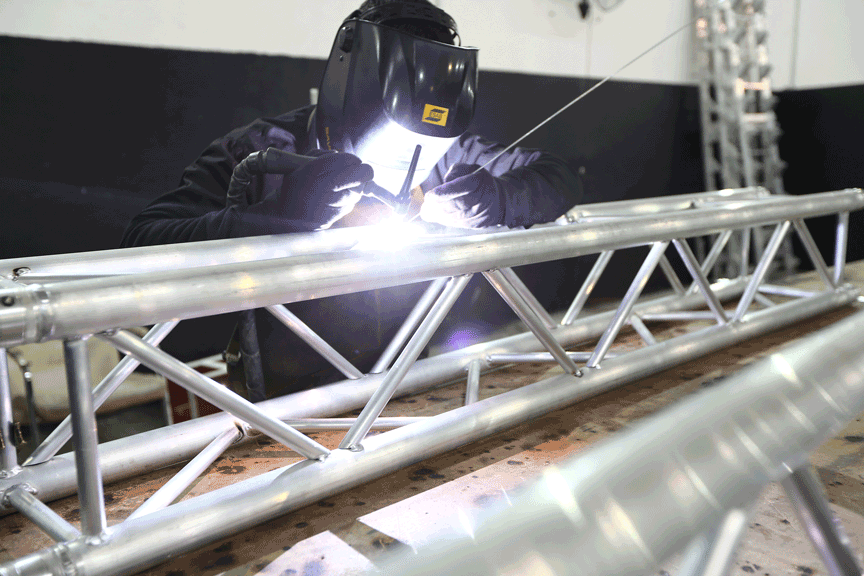 A leading team, an experienced engineering studio and specialized staff guarantee the flexibility and rapid realization of quality welded accessories and components, aluminum sheets and plates, aluminum welded profiles as semi-finished and finished products in various shapes and dimensions for the company's own product systems or according to customer requirements:
Semi-finished products and customized products with aluminum welding based on the design or client project.
The opportunity to realize the prototype of the welded aluminum product, with maximum speed and guaranteeing the fulfillment.
Technical solutions, project development, implementation in production according to the approved design.
Complete service for the customer, all services and processes are offered by a single supplier, from the raw material, the machining of aluminum profiles and components, the surface treatment with anodizing or powder coating, to the assembly of the product by welding

Welding methods
Welding processes are categorized based on how the welding heat is generated and how the filler material is delivered into the weld. The welding method used is determined by the materials to be welded as well as the thickness of the materials, the needed production efficiency, and the desired visual quality of the weld.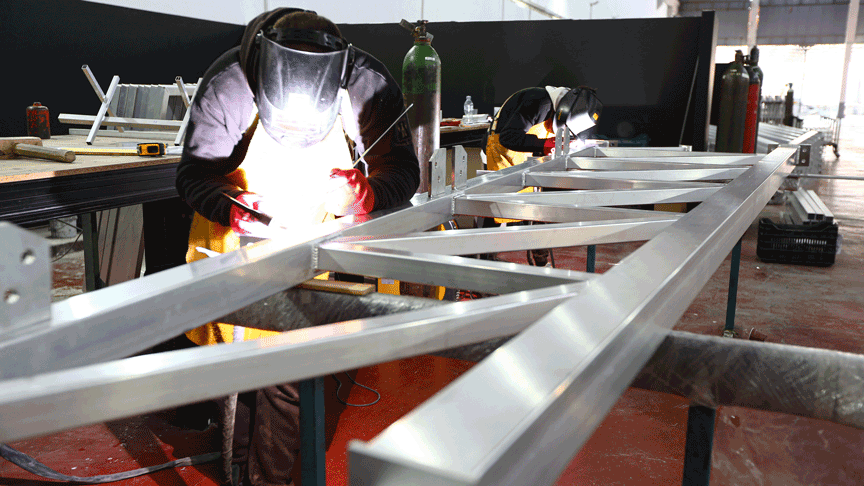 MIG/MAG welding, TIG welding, and stick (manual metal arc) welding are the most regularly used welding methods.
Because it generates extremely fine welding results, the slower TIG welding method is used for welds that will be visible or require a high degree of accuracy.
MIG/MAG welding is a versatile welding technology in which the filler material is not injected into the molten weld separately. Instead, the wire is fed through the welding cannon, which is surrounded by shielding gas, and into the molten weld.
The welding process is controlled in automated laser machine welding by the use of robots, which perform and handle the welding based on a software that may be reprogrammed to suit the desired project. This welding method is a more advanced variation of automated welding in which machines do the welding but workers still control and supervise the process.
This technology enables precise and speedy results, less waste, and increased safety. The devices can reach previously unreachable regions and produce difficult and precise weld lines and welds faster than manual welding. This frees up time for manufacturing and increases flexibility.


Products
Our welding units and certified welders obtain aluminum welding for a wide range of aluminum products used in civil, industrial and structural construction, architecture, furniture, renewable energy, automotive and machinery industries, of surfaces, shapes, angles and different sizes of aluminum alloys series 4000, 5000, 6000, etc.
Some of the Aluminum products with welding "Total quality" part of the standard products of the company are:
Welded aluminum roof trusses as load-bearing structure used for: scaffolding and framework/formwork, trusses (event construction), ladders, structures for prefabricated buildings (villas, offices, etc.), retractable roof pergolas, bio-climatic pergolas, beach bars, aluminum solar panels substructures, etc.
Welded aluminum balustrades with vertical panels and decorative aluminum panels achieved with laser cutting technology.
Welded aluminum structures used in the furniture sector for interior and exterior applications for decorative and architectural purposes


Truss, Stage, scaffolding and ladders
Aluminum truss and stage, scaffolding, and ladders can be quite versatile in the building industry, but not only, truss and stage are essential products used in the world of events, such as shows stages, concerts or exhibitions. They have significantly improved in terms of flexibility and durability. Aluminum truss and scaffolding is now suitable for both heavy-duty and light-weight tasks and may be utilized on both interior and outdoor surfaces.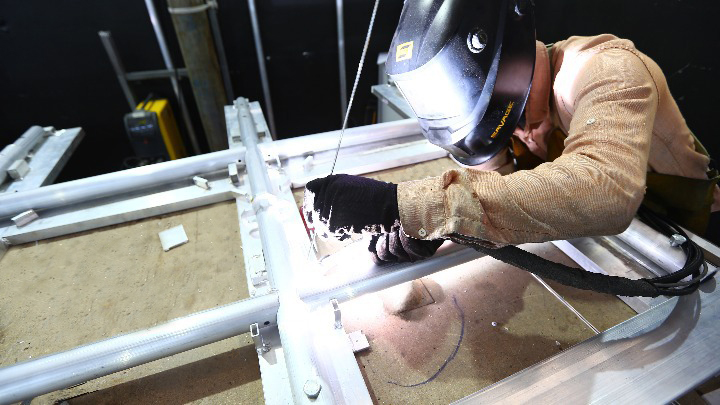 Our manufactory uses the latest technology and in the conformity with the strictest technical requirements to design and produce our clients customized projects from the primary aluminum billets to the final product undergoing through all the processes including quality inspection after each process:
Extrusion of suitable aluminum alloy, sawing profiles, aging furnace, drilling, milling, adjusting, working center, laser cutting, welding, assembling, packaging, transportation.


Why PESPA ALUMIN
Aside from our diversity and flexibility in adapting our production to our customers' specific requests, our company guarantees CERTIFIED ALUMINUM WELDING by European accredited entities for welding of aluminum products up to structural use, in conformity with the certified standard EN 1090-1 / EN 1090-3 guaranteeing quality during and after each process, for execution classes EXC1, EXC2, EXC3, EXC4. The process is performed by certified welders by an accredited and trained entity for aluminum welding, with "Certificate of approval of the welder" for each employee in accordance with the norm UNI EN ISO 9606-2: 2006 also in accordance with the ISO 3834-2: 2021 standard for welding aluminum structures.